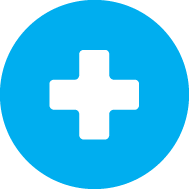 Safe healthcare needs a secure healthcare environment. ISR supports this with various healthcare related security solutions.
The healthcare sector has been subject to societal changes and public debate. As a healthcare service provider, your intent is to provide your employees, patients and visitors a safe environment. In order to guarantee this, your organisation must meet a wide range of safety and security requirements. For this you work with a variety of standards, guidelines and protocols. You implement saftey and security measures and regularly train your organisations ability to respond to incidents such as the failure of critical infrastructure, e.g. electricity.
We assists health care organisations with the development of an integral approach on safety and security and the design of an effective security management system. ISR is one of the authors of the
CEN TS 16850 standard
on security management in healthcare facilities. Furthermore, we provide information on security solutions for healthcare facilities. We translate your security ambitions and ideas into practical advice and realistic and implementable plans and procedures. Together with our healthcare experts we identify the potential for an integral security and safety approach for your organisation. Best practices will be identified, preserved and embedded in a manageable and maintainable organisation. Awareness and alertness play an important in role in remaining vigilant to potential vulnerabilities in the security management system. We develop awareness programs, trainings and exercises for healthcare organisations to guarantee an effective security system.